Belgian GP - Moules Frites
The Belgian Grand Prix is like Christmas come early in our household. Not only is it the first race after the summer break (FOUR weeks without F1!) but it also the home of absolutely delicious food, the most amazing beer, and a whole contingent of my husband's awesome relatives.
Last year we went a little overboard and bought every Trappist beer we could find in a 50 mile radius, along with a few other Belgian beers we just couldn't resist. It took us about a month of diligent beer drinking to make our way through the stash, but it was well worth it. This year we were a little more particular and found some options that would pair well with our meal and remind us just how good Belgian beer is.
Moules Frites
(Mussels and Fries!)
Moules Mariniere
(Belgian Steamed Mussels – Gestoomde Mossels)
From Everybody Eats Well In Belgium Cookbook by Ruth Van Waerebeek
"To experience the truly Belgian addiction, make sure to serve a small bowl of homemade mayonnaise, strongly flavored with mustard, to dip your frites in and a fresh pint of beer to wash it all down"
3 tablespoons butter
2 large shallots
2 ribs celery, finely chopped
(1 leek sliced white and light green parts, chopped)
(1/2 fennel bulb, chopped)
4 pounds mussels, thoroughly cleaned
1 teaspoon fresh thyme, or ½ teaspoon dried thyme
1 bay leaf
2 tablespoons finely chopped fresh parsley
Freshly ground black pepper to taste
1 ½ cups dry white wine*
1. Melt the butter in a pot large enough to hold all the mussels, over medium heat. Add the shallots, celery, leek, and fennel; cook, stirring occasionally until vegetables are softened and just slightly browned. Add the mussels, sprinkle with thyme, bay leaf, parsley, and 1-2 grindings fresh pepper. Pour the white wine over the mussels, cover the pot tightly.
*We ended up using a chardonnay because that is what we had on hand, and it turned out great!
2. Bring to a boil over high hear and steam the mussels in the covered pot until they open, 3-6 minutes. Be careful not to overcook the mussels as they can easily get tough. As soon as the mussels have opened, take them off the heat. Shake the pot several times to toss the mussels with the buttery vegetables. Discard any that have not opened.
3. Spoon the hot mussels into large bowls along with some of the broth. Sprinkle with additional parsley.
We have overtime collected a rather extensive beer glass collection, thanks in part to our local Ale House offering a Thursday night Pint Night in which you buy a pint of beer and get the corresponding pint glass to take home! And thanks also in part to an amazing trip to Belgium we took 4 years ago where we bought every Belgian beer glass we could get our hands on. Now, to my great joy, we can almost always pour our beer into its proper glassware and enjoy it as it is meant to be served. If you are not a crazy collector/ hoarder/ beer enthusiast, you can serve Belgian beer in a red wine glass or a goblet or tulip glass if you have one. Otherwise a mason jar, pint glass, mug, or bowl will do, just not out of the bottle!!
Pommes Frites
(Belgian FrieS)
From Everybody Eats Well In Belgium Cookbook by Ruth Van Waerebeek
You know how they tell you to read through a recipe in advance so you don't miss a step or end up missing an ingredient? Well, I did not indeed read the tips provided for this recipe and particularly the part about the fact that the older the potato, the better the fries. My potatoes were brand-spanking new, so they were not the magical crispiest-ever fries promised, but they were properly delicious nonetheless. So that you don't make the same mistake, I am telling you now -- use those old potatoes sitting on the back of your shelf somewhere! Your fries will thank you.
3 to 4 cups vegetable oil for frying
2 pounds russet potatoes, rinsed and dried
Salt
1. Pour enough oil in a deep fryer or large pot (I use a dutch oven because it has great heat retention). Heat oil to 325F.
2. Cut the potatoes into sticks ½ inch wide. (If you prefer skinny or thicker potatoes, just make sure to adjust cooking times accordingly.) Dry all the pieces thoroughly with a clean dish towel. This will help prevent oil splattering. Divide the potato sticks into batches of no more than 1 cup each. Do not fry more than one batch at a time
3. When the oil has reached the desired temperature, fry the potatoes for 4-5 minutes per batch. They should be lightly colored but not browned. Be sure to bring the oil back up to 325 between batches. At this point the frites can rest for several hours at room temperature until you are almost ready to serve them.
4. Heat the oil to 375F. Fry the potatoes in 1 cup batches until they are nicely browned and crisp, 1 to 2 minutes. Drain on fresh paper towels. (Do not cover with a lid this will lead to limp potatoes.)
5. Serve with freshly made mayonnaise.
Homemade Mayonnaise
From Everybody Eats Well In Belgium Cookbook by Ruth Van Waerebeek
2 egg yolks
1 Tablespoon Dijon mustard
2 teaspoons fresh lemon juice or white wine vinegar
Salt and pepper to taste
1 ½ cups safflower oil (or ½ cup olive oil and 1 cup safflower oil)
1. Place the egg yolks, mustard, lemon juice, salt and pepper in the top of a double boiler set over simmering water. Whisk until the mixture is well combined and slightly thickened. Watch carefully so that the eggs don't scramble. Set aside to cool.
2. Whisk a few drops of the oil into the cooled egg yolks until completely incorporated. Add a bit more oil, whisking to incorporate. Continue adding the oil in a slow, steady steam while whisking constantly. You should end up with a smooth emulsified sauce.
3. Taste to correct seasoning. Store in the refrigerator, where it will keep for up to 10 days.
Optional add ins:
Garlic mayo: 4 Tbsp mayo + 1 clove smashed and very finely minced garlic + 1/2 tsp salt
Curry mayo: 4 Tbsp mayo + 1/2 Tbsp curry + 1 tsp Sriracha (or more to taste)
Lemon mayo/aioli: 4 Tbsp mayo + 1/2 clove smashed and very finely minced garlic + juice of half a lemon (1/2-1 Tbsp)
Want more dip ideas? Some of these sound flipping amazing: Saveur's 10 Dipping Sauces for Frites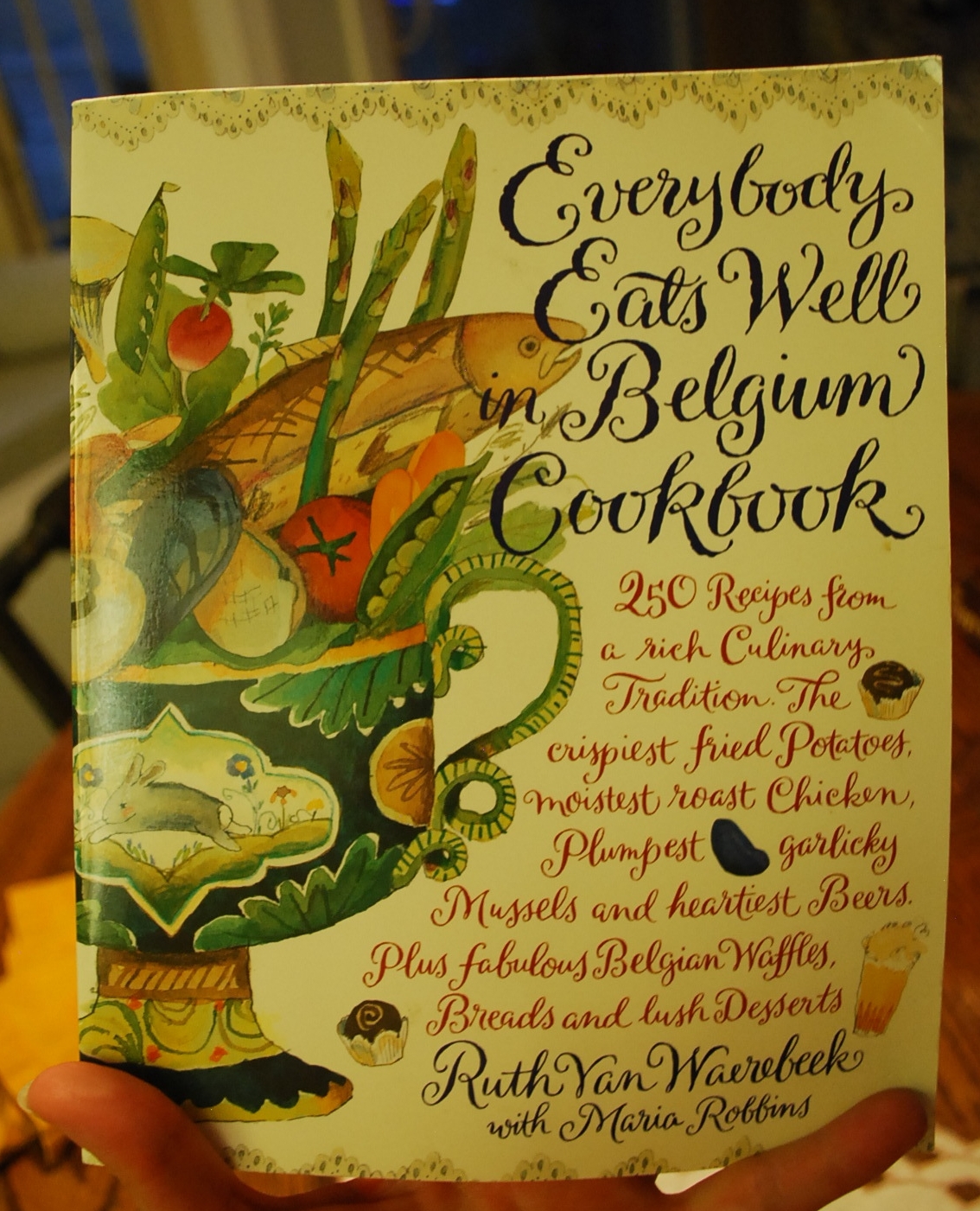 Everybody Eats Well in Belgium
This cookbook is pretty magical. Not only does it have delicious recipes, but Ruth Can Waerebeek offers great anecdotes and stories about tradition, history, and cooking tips that are interesting and at times invaluable.
I highly recommend it! Or you can check out her newer cookbook The Taste of Belgium which I am thinking about exploring myself, as it is filled with beautiful pictures and new stories too!
Cheers to a job well done!